My message for you on this Earth Day is, "Young people want a livable future!" All of us can make a difference for that future. Not just on Earth Day, but everyday!
The theme for Earth Day 2018 is, "End Plastic Pollution" Here is an interview with the founder of the original Earth Day.
If we continue the path we are on with plastic pollution, we will have more plastic in the ocean than fish by 2050. Business lobbyists are working hard to make sure we use plastic products. Laws are being passed to stop cities and counties from banning plastic bags and plastic/Styrofoam containers. We are in a sad place when the lobbyists have more power than the common good of everyone. These lobbyists make me more determined than ever to boycott their awful plastic products.
What are some ideas to reduce your plastic use? Here is an excellent article from Minnesota Public Radio(MPR) on what you can do about plastic pollution.  When a plastic product comes your way, ask yourself: Do I really need this, or can I use something else? Chances are you can say no, and yes. 
Each one of us can make a huge difference.  On Earth Day 2018 set a simple goal for yourself, something that is easy to do. Maybe just keeping your reusable bags in the trunk of your car, or refilling olive oil and balsamic vinegar bottles at your local grocery. Maybe refusing to purchase anything in Styrofoam or never again using a plastic straw.  You know your situation, what works for you?
Make sure your environmental goal is easy to accomplish, and something you have a passion or interest to accomplish. Remember, our youth want a livable future.
There are always new things you can purchase in bulk, instead of plastic. My newest way to avoid plastic using bulk hemp seeds to make hemp milk . Trying to reduce one plastic container at a time!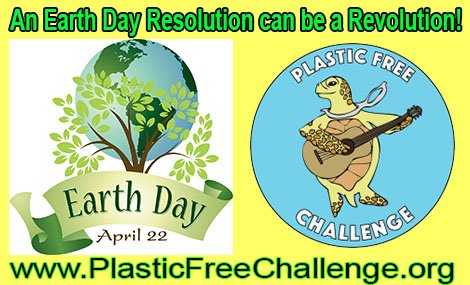 https://health4earth.com/2015/04/20/happy-earth-day/
https://health4earth.com/2016/04/22/everyday-earth-day/
Earth Day tips from Ecowatch